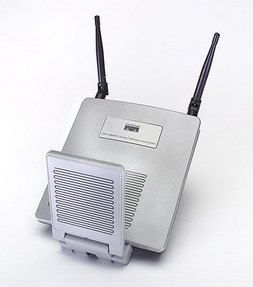 December 2005 marks the installment of a wireless network within the walls of Newtown High School. Jack Stoddard, Newtown alumnus and former Vice President of Sales for Mitel Networks Inc., donated the equipment for the wireless network in Newtown among other technological commodities.
With technology improving everyday, Newtown is no longer lagging behind. Have you noticed the little boxes in your classroom above the door? During the months of December and January a wireless network was installed in the building. Almost every room is equipped with a Wireless Access Point (W.A.P.) which allows one to connect to the Internet. Some of you are wondering, what is a Wireless Access Point? According to Wikipedia.com a wireless access point is "a device that connects wireless communication devices such as a laptop together, to form a wireless network."
These W.A.P.'s can be open or closed to access, due to a protection key that regulates the network for public use. Though that is not the case here at Newtown, the network is being protected with a Wired Equivalent Privacy (W.E.P.) encryption keys that is use to secure wireless networks. Only those with the key can connect to the Access Points. This prevents unauthorized individuals from accessing on to the school's Internet for free, which in essence is stealing the connection.
Since the network is protected, this raises the issue of student's being allowed to access the network and get provided with a W.E.P. key.
On a recent interview with Mr. Falzon, the new Network I.T. for Newtown, he stated "Students will not be provided with the access key. In fact they won't be able to pick up the access points."  As a student you may ask yourself what is the point of having a W.A.P. network then? In response to that statement Mr. Falzon stated "it would be easier to add new devices in the future and it also helps the teachers."  Before teachers had to plug in cables to make the Internet run in their classrooms, now all they have to do is turn the computers on and the Internet is up and running.
Therefore the policy towards electronic devices in school still remains in tact. Student will not be allowed to bring their laptops or any other electronic device.
Students will be able to use the W.A.P. only with the school's desktop computers and laptops. These computers were setup to pick up the Access Points and connect without any problems.
As of now, the use of the W.A.P.s is limited but it is hopeful by many students that it will become accessible to cross the threshold of cables and the slow internet access here at Newtown.